Rethink Church Text Messaging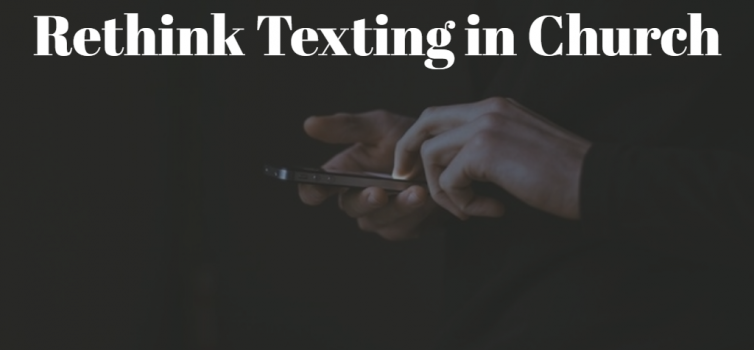 Church Text Messaging
You might be thinking that your using Facebook, Twitter, email campaigns, and your website effectively. Have you given though to church text messaging? If so, that's great news. Many churches and nonprofits have discovered the value of using these methods. Text messaging reaches and engages audiences. Additionally, a church text messaging is tool brings exponential improvements to all of your social networking efforts.
Church text messaging marketing makes sense.
Only 37% of adults identify themselves as frequent email users. It gets worse though because with email a 20% open rate is considered good. So, if you email an announcement to your 1000 members, only 370 will most likely get it and of those, only 74 will open it—most of them a day or two after they get it, when they are at home, and when they think about it. (1000 X 37% X 20% = 74)
Furthermore, Sixty-eight percent of Americans have a smartphone and regularly send and receive text messages. With text messages, the open rate is 97%. On average opens happen within 5 minutes of the message being sent. So, of those 1000 members, 900 will be able to get the message. Then 855 will open it and read it within 5 minutes of you sending it. (1000 X 90% X 95% = 855) 855 views of your message versus 74—pretty good odds of more people showing up for the potluck dinner with text reminders versus email, wouldn't you say.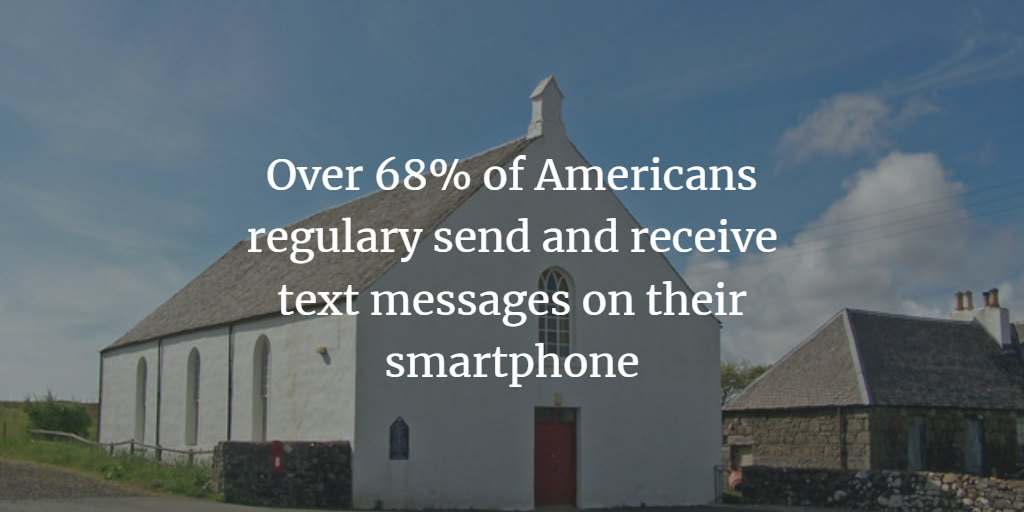 Finding the right church text messaging partner.
By now you're probably curious to know how to get started with this powerful tool, so let's talk a little about the how. Could you run a simple text messaging campaign from your personal cell phone? Sure. You could hold church services in a parking lot too, but you've probably figured out by now you can be much more effective with a beautiful sanctuary, comfortable seats, and a suitable sound system. Text messaging is no different. If you want a program that is easy to use, scalable as you grow, allows for permission-based opt-in, and seamlessly integrates with an electronic giving program, you're going to need a fairly sophisticated platform.  That's where we come in.
Our service is part of a mobile marketing company currently servicing 10,000's of businesses, churches, and nonprofits nationwide. We've been in the business for about as long as there has been a mobile marketing industry. We've learned through experience what makes an effective text marketing campaign work. When you start a relationship with us, you are working alongside a company whose goal is your success.
The AvidMobile team has spent years serving the market with our mobile text marketing platform. Not only have we built the technology platform needed to support our partners' text messaging needs, we've developed expertise in crafting effective marketing campaigns with texting at its center.  Our team teaches you exactly how to build your database of existing supporters and key potential ones. You receiving training on how to integrate text with your social networks. We build a mobile website for you. Customer support doesn't stop at the sale.
Once registered into the program, we provide you the mobile site, additional mobile websites to run your outreach programs. Secondly, we show you how to build donation pages. Finally we help you establish your keywords and databases to do your text-messaging.
Taking donations with church text messaging.
The ability to accept online donations has become vital to many organizations as people carry less cash, don't use checkbooks, and prefer to pay their bills and tithes online.  It can be challenging, however, to analyze the costs associated with accepting various forms of donations.
Now with mobile web use set to surpass even desktop/laptop browsing of the internet over the next few years, churches and nonprofits must be ready to accept mobile donations as well. If you're not currently taking donations on your website, we can help you get started. In addition, with our technology, we make it possible for you to take donations from smartphones.
Here's how it works: You set up a secure hosted donation page on your regular website, we provide you a mobile site and smartphone application that allows your supporters to connect and donate directly from their smartphone.
Here are a few more ideas you could easily execute using an SMS marketing platform, like AvidMobile's:
Outreach Ideas
 For example, you can place a message on your church sign such as, "Our inside is even nicer than our outside…Want to see? Text CHURCH INFO to 72727. They then get a text message back thanking them for their interest, inviting them to the service with the times, and a link to a video that shows a sampling of a service and has a short message from the minister.
Put a message on your newspaper ad that says, "For a preview of tomorrow's service, text OUR CHURCH to 72727." They receive a link to a video they can watch right on their phone of the minister with a personal invitation to come to the service.
Grow your database and spread your message by having participants at your next event "text in" their registration. Use this method to deliver important information about the event in lieu of printed fliers and brochures.
In-reach Ideas
Daily prayer requests or inspirations with text and/or video.
Use customized databases, one for each small group within your church, to grow and support your small group ministry.
Communicate weather-related schedule changes and closings.
Quickly communicate emergency "calls to action" when members of your congregation need help and support.
Stewardship Ideas
Save money on printing and be eco-friendly at the same time by replacing paper brochures and bulletins with virtual ones.
Send tithe reminders on the 15th and 30th of the month to coincide with typical pay-days thereby creating a "5th Sunday" tithing opportunity. (Example: If you sent 1000 messages on the 15th of the month asking for an additional $40 donation and you achieved only a 2% response rate, you'd bring in an additional $800. The cost for sending those messages would be about $50.)
Create ease of payment for the growing population that doesn't use checks.
Final thoughts on church text messaging marketing
Many experts have commented that mobile computing today is about where the internet was in the late 1990's. This is a burgeoning field filled with possibilities to help leaders of organizations large and small do a better job of meeting their communications goals. Afterall, don't you owe it those you serve to consider adding a mobile text messaging platform to the tools at your disposal?
Our program is built on years of experience in the for-profit world but specifically designed for non-profits. A technology alone will not accomplish that, but with our team, strategies, and support we can help you do all of the things we discussed.
If you're ready to explore the tremendous possibilities of using text messaging to expand your outreach and improve your internal communications. Start your free trial below.