7 Components of CTIA Compliant Web Opt-in
The 7 Components of CTIA Compliant Web Opt-in
A well-constructed website with CTIA compliant opt-in language is key to SMS marketing success. Inviting website traffic to text a keyword to your short code or complete an SMS web opt-in is a great way to share offers and information. Additionally, this allows you to build a relationship with visitors as you build a mobile database. With database building and remarketing at the forefront, it is important to ensure web opt-ins are obtained following the CTIA's compliance and best practices standards.
Maximize your ROI.
A CTIA compliant list of opt-ins guarantees you have a database of people who have shown an interested in your brand. Equally planning and organizing marketing assets will positively impact audience participation. Your customers want to trust you and be confident that they're not asking for spam. In other words, compliance protects both the business and the customer.
Failure to incorporate compliant SMS language could result in the following:
A decrease in opt-ins and an increase in opt-outs.
The risk of the consumer taking legal action against your business that could result in unnecessary fines.
A random audit of your website that results in a content violation. Failure to correct will result in a takedown of your webpage.
Successful SMS marketing starts at the opt-in.
Before you send a single SMS marketing message to your audience it is important to obtain express prior written consent from your audience. What is it? Express written consent is your customer giving you permission to send them marketing text messages. A business can obtain consent by having customers sign written or digital agreements. Additionally, you can capture consent when a customer manually texts a keyword to the shortcode to opt in. Each of these methods must contain the CTIA compliant terms & conditions that clearly and conspicuously disclose the following to the consumer:
By signing or acknowledging the agreement they authorize the business or organization to deliver SMS marketing text messages to the designated phone number.
The consumer is not required to sign the agreement or agree to enter into it as a condition of purchasing any property, goods, or services.
This required signature can be obtained in any way that complies with state or federal law. This includes e-mail, website form, text message, telephone key-press, or a voice recording.
Putting the pieces together.
Many of you have already added SMS web opt-ins to your page or may be planning to in the near future. By ensuring you've added these seven items you can guarantee that your audience has opted-in correctly.
The disclaimer should be immediately below or beside the form requiring the mobile phone number. This disclaimer should be black lettering on a white background or use a similar high contrast easy-to-read color scheme.
Identify the advertiser, business or organization.
Identify the promotion or value proposition. In other words, let them know why they are providing their mobile number.
Clearly state the frequency for future messages, offers, and coupons.
Consent is not a requirment for purchase.
The end user must know that standard text message and data rates may apply.
A sentence to let the customer know how to get help or to opt-out of the SMS marketing campaign. The HELP and STOP commands must be in bold.
An example of a compliant SMS opt-in form.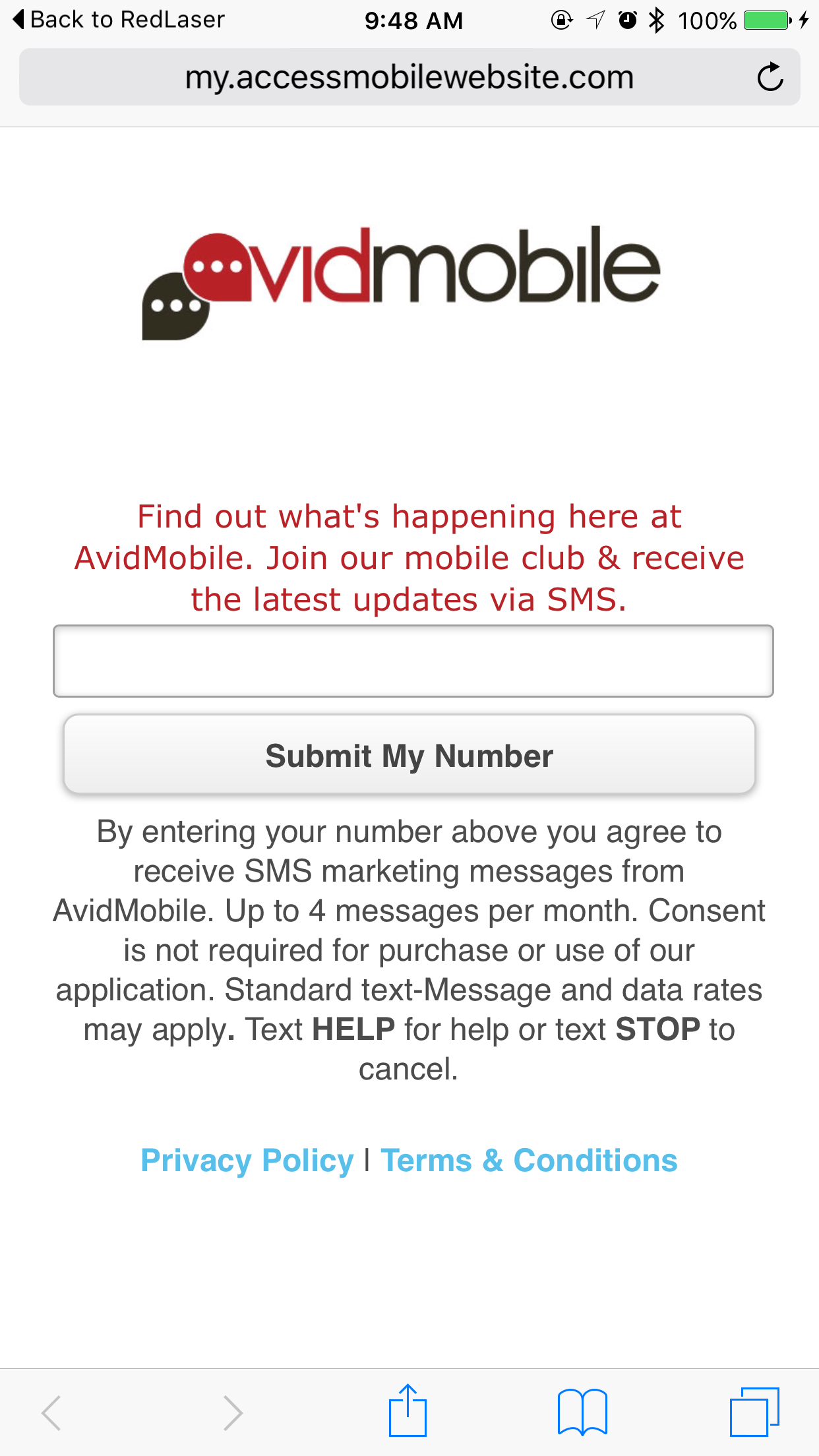 We want you to be successful with your SMS marketing efforts. You can contact us here to learn more about our SMS marketing application.
Disclaimer: The contents of this blog post are provided for informational and educational purposes only. The samples, suggestions, practices and other information in this email are provided as general background information and may not be appropriate for your situation. You should not act or rely on this information without seeking the advice of an attorney.