Mobile Marketing White Label Webinar
FACT: Your business is looking for a mobile marketing white label partner. FACT: You don't know the first thing about the industry and it is downright confusing! Here at AvidMobile, we totally sympathize with your situation. We meet with business owners who rushed into hasty decisions, costing their companies $20,000 before they realized they could get a top-notch mobile marketing platform for so much less! It's wise to gather all the facts before jumping into this decision head-first, which is why we're bringing you our FREE educational webinars to help you out.
What Is A Mobile Marketing White Label Webinar?
The word "Webinar" stands for web-based seminar. This online workshop is an excellent alternative to traditional seminars, which are often expensive and time-consuming. A webinar lets you learn from the comfort of your own home and register whenever it's convenient for you. Best of all, once the webinar is over, the educational materials and handouts will be yours to download or print for future reference!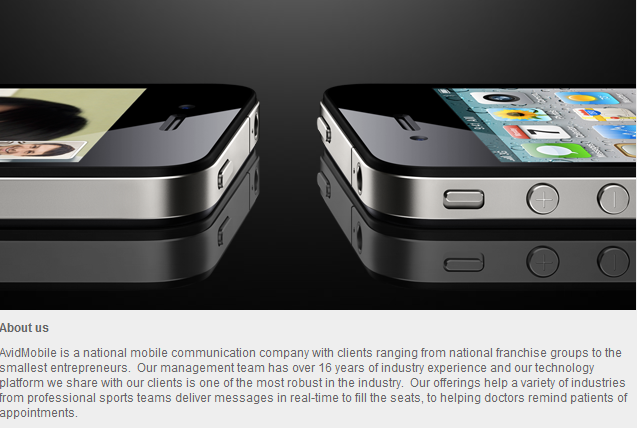 What Will I Learn At A Free Mobile Marketing White Label Webinar?
The differences between Message Delivery systems: SMPP, SMTP, GSM…
Whether it's possible to find a plan with unlimited texts…
The hidden dangers and true costs of "No Monthly Fee" programs…
How to integrate your

mobile marketing white label

campaign with Facebook…
How your company can get started for less money up-front…
Why SMS enhanced mobile websites are the only way to go…
How to upsell apps to increase residual revenue…
Make an educated decision. Enroll today!
Join one of the two FREE educational seminars AvidMobile puts on that will help clear up many questions and concerns prior to making a decision. Twice a week AvidMobile's CEO Rob Clifton gets on an open and Free online meeting to answer commonly asked questions by newbies to the World of Mobile Marketing. Don't miss this enlightening education and the opportunity to ask your questions direct to one of the top providers of mobile services in the space.