SMS Marketing White Label Call 877-511-MOBI!
Avid Mobile is a leading provider of SMS marketing white label services in the U.S. and Canada. Marketing companies who are looking to get into crafting mobile campaigns for their clients will find that Avid Mobile offers an unparalleled collection of PowerPoint presentations, training videos and whitepapers to help marketers not just learn the software, but also close sales! In fact, there are over 40 hours of training resources available for mobile marketing resellers!
Customer Service
When you're choosing an SMS marketing white label partner, you want someone who will always be there for you. Companies like Trumpia will only field your calls from 6 am – 6:30 pm PST… but Avid Mobile customer care reps are standing by 24/7 to answer any questions or concerns you may have!
Features
You want a white label SMS marketing partner who can grow with you. Avid Mobile offers versatile and scale-able plans for resellers big and small. You'll find that every feature you could possibly want in a mobile marketing software program is available to you. Our resellers can customize their dashboard with Marketing Center Basic, Plus or Platinum themes, depending on what they need.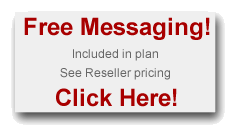 Keyword Campaigns
Auto-Responder
Text2Vote
Text2Win
Text2Screen
Text2Survey
Appointment Reminders
SMS and MMS Message Delivery
Data Collection
Auto Generate Web Optin Script
Fully Documented API
Shared Short Codes
Dedicated Short Codes
Benefits
Avid Mobile SMS marketing white label software is a blessing to marketers who want to run a multi-channel enterprise and reach even more of their clients' customer base. Special promotions can be created in real-time to drum up traffic on a slow day. Polls, surveys and reminders can all be sent out to help businesses improve their communication with their core constituents. Mobile is a way of soliciting donations, sharing coupons, and spreading videos from person to person. To provide the best possible service for their clients, more and more marketers are offering AvidMobile text advertising.
The White Label Program
Best of all, we offer white label marketing plans. This means that you can just think of us as your silent marketing partner. We provide the software technology, we train you in the use of our software and campaign creation, and we help you with any questions or technical issues you may have. Yet, the nominal fee you pay us earns you the right to advertise the mobile marketing service as 100% your own, using your brand name and logo. You need not tell anyone that we're helping on the back end of things, (although we do always appreciate referrals!)
Call 1-877-511-MOBI for more details on our SMS marketing white label program.