What's So Lovable About The Mobile Marketing Platform?
IBM's "State of Marketing 2011" study found that the mobile marketing platform continues to rise in popularity. More than 40 percent of US marketers are currently using mobile marketing tactics and another 20 percent plan to do so within the year. The more consumers use mobile devices, the more marketers are jumping in, demanding a piece of that pie. They are more than willing to connect with busy customers whenever and wherever it is most convenient.
Marketers Love Mobile Marketing Platform
What's not to love about the mobile marketing platform?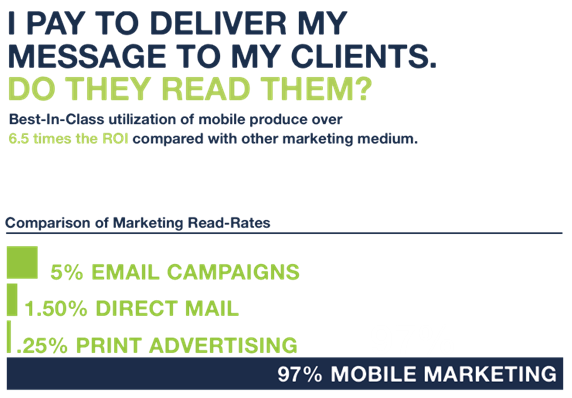 Mobile campaigns have an amazing read-rate of 97 percent… compared to 5 percent for Email Campaigns, 1.5 percent for Direct Mail Campaigns and 0.25 percent of print ads.
On average, we see call-to-action rates at 9% or higher. Imagine you own a doughnut shop and on your slowest day, you've decided to offer a free doughnut with every $5 coffee. Considering that it costs about $11 to communicate with 100 prospects (x 9% redemption), that means you'll make an extra $45 that day. Naturally, you can see where this is going, as you can obviously contact way more than 100 people for your promotion!
An estimated 154 million Americans text. Can you afford to miss out on this market?
According to eMarketer, 33 percent of Americans admitted to redeeming a mobile coupon in October and another 15 percent admitted their spending with a particular brand increased as a result of a mobile marketing campaign.
A Mobile Marketing Platform Case Study
Psycho Donuts of Campbell, California wanted to reach out to young hipsters in an unconventional way, so they turned to the mobile marketing platform.Their customers opted in to their text service in exchange for special deals that can't be found elsewhere. Upon signing up, customers receive a welcome text and a coupon for a free doughnut on their next visit. Since they began, their list has grown to 400 subscribers who respond 3-4 times' better than their 1,000 Twitter followers.

How Can Businesses Get Involved?
Avid Mobile, a 16 year industry veteran, offers clients unlimited texts, tracking research, list segmentation tools and customer support services for mobile marketing platform campaigns. They also offer a While Label SMS Reseller program for people who want to offer a similar service and capitalize on the burgeoning world of text message marketing.
For information on pricing and how you can benefit from mobile marketing…
Please call 877-511-MOBI or use this convenient online contact form!