Mobile Marketing Agencies Are Capitalizing- 4 Trends For You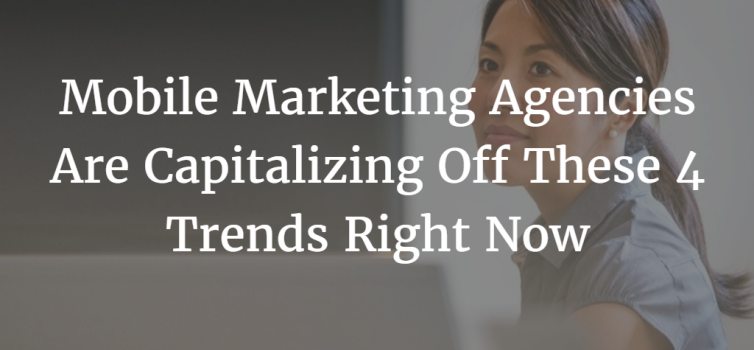 Mobile marketing agencies are capitalizing off four hot trends in text message branding today, according to Mobile Marketer.

Social Media Integration
"There is really a great synergy between mobile and social and great benefits to be had by doing these two things together," says Lisa Abramson, director of marketing at a New York ad agency. Their company discovered that a social media full-page call-to-action ad increases consumer participation by 57 percent. In fact, one client boosted engagement 75 percent by adding a social media page promoting their mobile campaign. Surveys show that mobile users are social as well; in fact, 67.7 percent of mobile users access Facebook at least once a day (compared with 54 percent of people who access Facebook from their PCs.)
Full-Page Mobile Ads
If you want to make money, mobile marketing agencies say "Bigger is better" when it comes to ads. Full-screen ads fare FIVE TIMES better than banner ads. Users appreciate large ads because it's easier to opt-in on their smaller smartphone screens and helps them reduce the number of false clicks to reach where they want to go. Mobile users also say they prefer having a few high-quality ads, versus small (but bothersome) banner ads, which take up valuable screen space.
Contextual Ads
Unlike PCs, there is no way of dropping cookies or targeting mobile ads based on where the users are clicking. So, the best mobile marketing agencies can do is align ads based on the editorial content they are simultaneously delivering. A contextual ad is a good tool to fuel click-through rates. There is a FIVE TIMES higher click-through rate for contextual mobile ads. Even though it's difficult to target mobile users, the best mobile marketing agencies have their ways. For instance, they can review data from surveys about users of a particular type of device, be it an Android or a Blackberry. They can also geo-target people by location. Data can also be gathered by individuals who download games, ring tones and access mobile social networking sites.
Early Engagement

Sometimes a user can access a video or other rich content by clicking the call-to-action. However, more often, mobile marketing agencies are opting to engage mobile users first and then offer a call-to-action. This trend solves the problem of mobile users ignoring mobile banner ads. Agencies can use a video, animations, or a 3D banner that rotates images and tells a story before users click on the ad. For instance, a Chevy Silverado ad rotated a page highlighting truck specifics and showing the special offers, while other panels let users click to watch a video or click to "like" the truck on Facebook.
Contact AvidMobile, the leader of mobile marketing agencies, to learn more about our software and text promotions: 1-877-511-MOBI