Message Tokens Add a Personal Touch to SMS Campaigns
Add a personal touch to your next campaign with message tokens.
At the start of 2018 AvidMobile launched Members. A new way for you to manage your member data. Our team has been working hard to build upon Members. We've already pushed three major updates to to this feature. With the focus of making it easy for you to upload or capture your customers' data.
We're continuing to improve Members with the launch of our 4th new feature, Message Tokens. With this upgrade we're bringing a whole new level of customization to your Campaigns. Now you can use Message Tokens to add member data fields to your campaigns. This takes Campaigns to the next level. Now you can send personalized text messages that contain a customer's name, job title, or any other custom field that you've got stored!
As a marketer how can I utilize SMS Message Tokens?
In a recent article by Forbes they discuss new research that proves that consumers have come to expect highly personalized experiences. Marketers are seeking out tools that allow them to create these experiences. The same is true when it comes to text message marketing services. While generalized SMS campaigns are still quite effective businesses are experiencing even more success with tailored messages.
Let's say you run a car wash and you've been using text messaging to send out regular offers and updates to your database. There has been a measurable decrease in downtime as well as increase in revenues. To summarize things SMS marketing is working great for you. Now think about how your customers would respond to an SMS campaign that had their name and their model of car in it. AvidMobile's Message Tokens are allowing our users to take their text messaging campaigns to the next level.
Don't have a Member data for every user? Don't worry, AvidMobile's  Message Tokens also allow you to set fallbacks. In other words, you insert  an alternate message or insert alternate tokens to make sure the right Campaign is sent to your audience. Check out our examples below.
Setting up the Message Token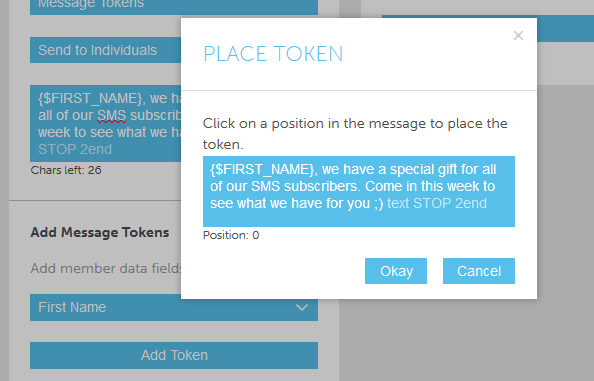 Setting up alternative Message Token text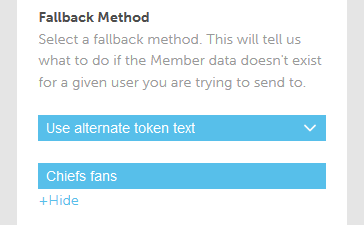 Steps to use Message tokens.
Already an AvidMobile user? You can log in to your account to start sending SMS Campaigns with Message tokens. Follow the steps below.
Navigate to Menu > Messaging > Campaigns and create a create a new campaign or clone an existing campaign

On the Message Editor Card type or edit the message and go to the Add Message Tokens section and click Show.

Use the drop down menu to select the member data field you want to add. Click Add Token to add it. A Place Token popup will appear, click on a position in the message to place the token. Click Okay to save. Repeat this process to add additional member data fields.

Next, go to the Fallback Method to select a fallback if Member data isn't available. You can choose to create an alternate text message or use alternate tokens.

If necessary for the Campaign add your coupon. Once your done click Save Message.

From that point select your group(s) and schedule the Campaign, just like you've done before.
For the best experience with Message Tokens we recommend double checking to make sure your Member's data is populated. You will find tutorials for uploading member data under Menu > Help > Tutorials > Messaging.
Curious to see if text messaging is right for you? Sign up for a trial account and see all the ways