How Can Short Code Services Help Your Clients?
Here at AvidMobile, we're always on the look out for innovative ways that marketers for top companies are using short code services to drive sales and "wow" consumers. The holiday season is a great time to offer your clients short code services that will make their Christmas promotions much more effective. As you know, mobile reaches consumers where they are most ready to buy — at a neighboring store, just before they leave the house to do their shopping, or on their lunch break at work. Recently, we learned about a neat promotion run by Red Box this winter.
Short Code Services Work For Redbox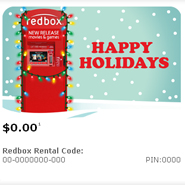 Movie rental merchant Redbox used short code services this holiday season to allow movie lovers to gift their friends and family with free rentals. The promotion was offered through the company's website or via SMS. Buyers can choose a bundle of five first-night DVD rentals for $5 or 10 first-night DVD rentals for $10. Gift givers can then send the gift, along with a personalized message, from one mobile device to another. Recipients can redeem the gift at any of the 34,400 kiosks nationwide. In addition, Redbox customers can text the word "FUN" to short code 727272 every day over the holiday season for a chance to win a daily prize like a special discount, a free rental, or an item from Barnes & Noble.
Redbox Sees Value In Short Code Services
Redbox has been ramping up its mobile presence all year. In early 2011, they announced a number of mobile tools that would let consumers access their accounts via their smartphones. They created new apps for Androids and iPhones for easy mobile access as well. "Movies are inherently social, making mobile engagement a key component of our forward looking marketing strategy," says Amy Gibby, VP of Marketing at Redbox Chicago.
Is Your New Year's Resolution To Offer Short Code Services In 2012?
AvidMobile has been helping small, medium and large-sized marketing companies offer short code services since the dawn of the smartphone. We've spent years developing a straightforward, user-friendly platform for creating mobile campaigns — so you don't have to! All we humbly ask is that you pay us a modest fee for the use of our technology, but then you are free to brand the campaigns and offer the technology to your clients as your own. You are free to charge whatever you please and don't worry about us at all! Unlike other white label short code services providers, we DO NOT CHARGE KEYWORD FEES. Yet, we are still here for you, should you have any questions or concerns about our mobile marketing platform. You can think of us as the elves behind-the-scenes that ensure your operation runs as seamlessly as Santa's workshop!