Mobile Coupons Growing 200 Percent Every Month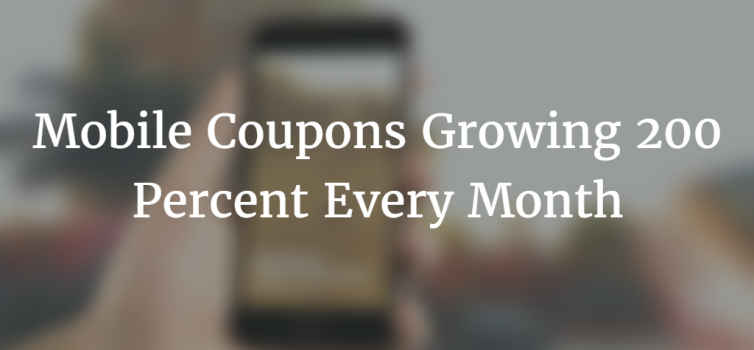 There were 230 million mobile coupon redemptions in 2011, which underscores the rising popularity of this mobile marketing niche. During the recession, deal-hunting has become the American Way. Studies indicate that 74 percent of consumers search online coupon sites on a weekly basis. About 55 percent of shoppers say coupons "heavily influence" how they'll be shopping that week.
Mobile Coupons Are Cost-Effective.
Yahoo! Web Analytics Strategist Matt Lillig says that printed coupons are "expensive" and "ineffective" in the Digital Age. He found that mail paper coupons deliver a redemption rate of 1-5 percent on average, compared to click-to-print and mobile coupons, which offer much higher redemption rates of 10-20 percent.
Are Your Coupons Designed With Your Best Interests In Mind?
It is not enough to simply put coupon codes out into the ether. Fraud is still a very real possibility if you are not careful. According to David Weatherby at Retail Week, "The key is to give each coupon a unique serial number which can be used to guarantee the coupon's authenticity and to control the number of times it can be used." He goes on to say that it is also important to be sure the customer has fulfilled the redemption criteria and bought the proper products you wish to promote. Often this is left to a check-out operator and the rules can be hard to enforce. The best way to approach this is to use electronic data interchange messaging to communicate intelligently and automate validation.
RetailMeNot Launches Mobile App
Once you've designed a mobile coupon campaign, you can list your deal on the popular coupon site RetailMeNot, which just launched an app, which lets users keep lists of hot deals and bookmark coupons to use at check-out. Company data suggests that 17 percent of its traffic comes from mobile users, but the mobile channel is "growing by 200 percent every month, year-over-year," says CEO Cotter Cunningham. In the future, the company hopes to allow users to integrate the coupons with their credit cards, so coupons can be automatically applied with the simple swipe of a payment card. RetailMeNot says their studies show consumers are 35 percent more likely to visit a brick-and-mortar store if they have a coupon.
Do You Know AvidMobile Launched A New Mobile Coupon Module?!?
Our new mobile coupon module, launched in May 2012, makes it quicker and easier than ever to generate a unique coupon that is fully integrated with your online e-commerce store and retail locations. Our module lets you analyze, track and optimize your coupons in real-time!
Get your mobile marketing strategy kick-started with AvidMobile! We provide full back-end support and over 40 hours of mobile marketing training to ensure your promotions are easy-to-create and effective too!

Contact us here

or call 1-877-511-MOBI now!