SMS White Label Marketing Boosts ECommerce
If you haven't heard of SMS white label marketing, then you could be missing out on substantial profits. Here is the basic gist: you need a mobile marketing campaign, but you don't have the time, energy, knowledge or resources to develop the technology and advertising materials to launch. As it turns out, there are mobile marketing companies that have already developed a functional mobile marketing platform that you may brand and use as your own for a small fee.
What Exactly Is White Label SMS Marketing?
"White label" refers to any product or service that is made by one company, then repackaged, marketed and sold by another company as their own. "SMS" stands for Short Message Service, which is a 160-character, plain text message that is delivered via AT&T, Verizon or other mobile carriers.
How Do Companies Use SMS White Label Marketing?
1. First, you build a database of mobile phone numbers, just as you would build an email subscriber list. People opt-in by providing their number via online forms or sometimes through text-in promotions (like American Idol does).
2. Next, you access an SMS white label marketing company's easy, do-it-yourself mobile marketing platform, which allows you to develop your own branded text message promotion.
3. Lastly, you can send out a mass text message promotion to your database to drive traffic to your online store.

AvidMobile offers a SMS white label web development for affordable prices. Check it out!
How Much Does SMS White Label Marketing Cost?

Every SMS white label company has its own fee structure, but generally speaking, there are free demos and plans starting as low as $20 per month all the way up to $500 a month for customers with extremely large databases. Some companies offer no set-up fees, free incoming texts and no monthly fees — just charging mere pennies for each sent message, for example.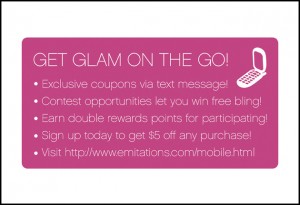 How Does SMS White Label Marketing Help Ecommerce Clients?
Say, for example, you are selling high-end jewelry online. With SMS white label marketing, you can…
Use text messages for security purposes. Before allowing people to make secure purchases online with their credit cards, have customers enter the phone number associated with the credit card to receive a 4-digit PIN number to complete their orders.
Facilitate a purchase right through a text message. Show a piece of jewelry that's on special sale and give the "Buy Now" option. The purchase will then appear on the person's cell phone bill and you'll get a check cut from the cell phone company, just as the makers of ringtones, wallpapers or apps receive.
Access our mobile marketing demo platform FREE today by visiting